About...
Founded in 1979, System Resources Inc offers consulting for:
Programming languages
(web related) ASP, .NET, html, cfm (cold fusion), VB (visual basic), XML, CSS, CGI, Perl, iMIS E Series (application)
Database languages & programming skills
(triggers, stored procedures, queries, administration) SQL Server, MSDE, Sybase Adaptive Server, Access, MySQL
Programming languages
(desktop related) Crystal Reports, Access, VB, .NET, MS Office Prof, Dream Weaver & Ulta Dev, Fireworks, Flash, Cold Fusion, Adobe Acrobat, Visio, iMIS
Optometric Physicians of Washington
Judy Balzer
LAN upgrade to SQL, e-Series installation www.eyes.org , online roster/directory report, custom crystal reports, custom dues notice including past due items and voluntary items
Society for Information Display
Jenny Needham
Custom Cold Fusion applications in e-Series, Annual Election application online www.sidmembers.org , papers submission/review program on line, complete web site redesign
National Council for Therapeutic Recreation Certification
Robin McNeal
iMIS Support, custom programing, eSeries implementation, complete web site redesign
Washington State PTA
Melissa Anderson
Stored Procedure review/updates for annual database changes, complete web site redesignwww.wastatepta.org , custom applications developed for online membership renewal program www.wastateptambrs.org
KS Inc Productions
Kathie Stull
complete website development/redesign and maintenance for 4 televsions shows
Canadian Society of Exploration Geophysicists
Jim Racette
database conversion, online member center, custom programing www.cesg.ca/eseries
We offer creative solutions
that are delivered on time and on budget based on your needs! We pride ourselves in being pro active vs being reactive when ever possible.
For the life of your business!
Certified by ASI as an independant iMIS Consultant. Certified Network support, software support, hardware configuration (we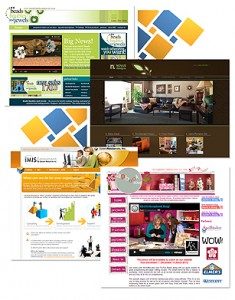 recommend Dell). Are you looking for iMIS database support, cold fusion programing, crystal reports? We can provide custom solutions to suit your needs and your budget!
.NET programing, extender applications, Visual Basic programing/applications, Cold Fusion programing, SQL script creation and of course custom reporting with Crystal Reports or Access are all part of our consulting services .
Contact us to see how we can help you & your organization get the most out of iMIS!
"For the Life of Your Business"
GET IN TOUCH...
Send us a message.